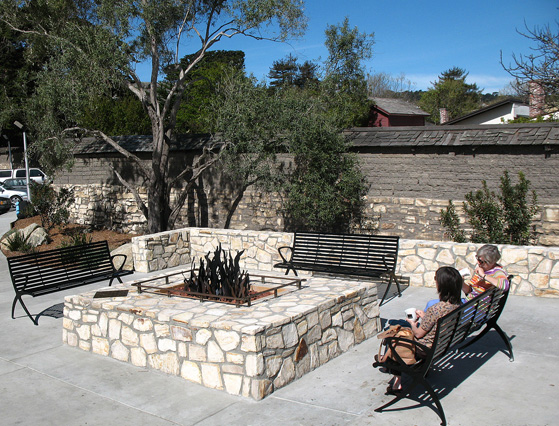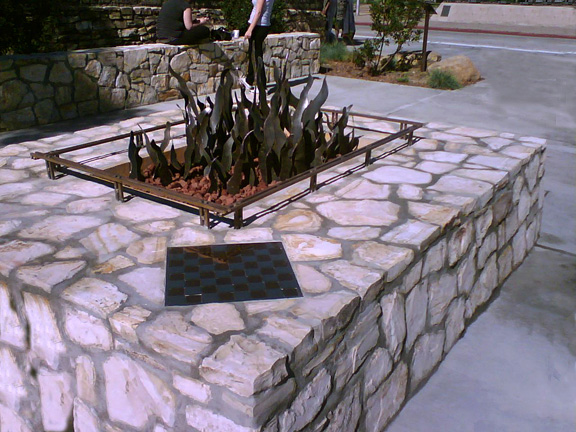 Flames Fire Pit with Guard Rail
Uptown Monterey Shopping Center, Monterey, California
Flames: fabricated steel
Guard Rail: bronze
Flames: 3' X 5' X 26" tall
Guard Rail: 68" X 44" X 4" tall
Design, fabrication: :L:M:N:O: Arts
copyright 2007:L:M:N:O: Arts
Owners: Foothill Partners, El Dorado Hills, California
Landscape architect: Oona Gabersek,Bellinger Foster Steinmetz Architects Monterey, California
Architects: Rauschenbach Marvelli Becker, Sacramento, California
Contractor: Daniels and House, Monterey, California
Masonry: Gallatin's, Seaside, California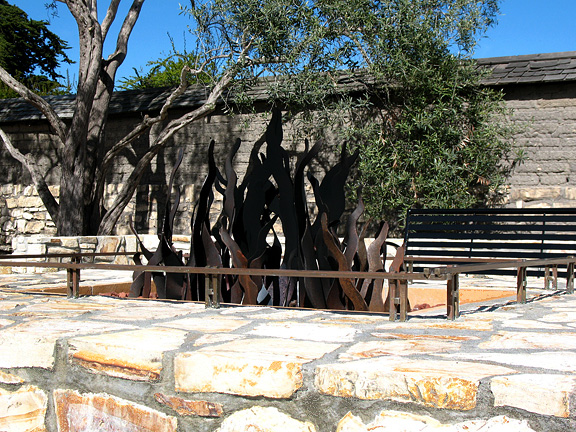 Comments from an important visitor to the Flames Fire Pit:
"I passed by your fire pit Saturday night and found a group singing around the fire.
It reminded me of Pinecrest and how the ambiance of an outdoor fire seems to
bring out a happy, relaxed side of people. This was a group of Armenians singing
traditional songs, very beautifully I must say. There were a few people next to them,
also enjoying the fire, and applauded after each song. It's a remarkable transformation
of that spot, which a lot of people really enjoy. Well done.
Photos from my camera phone are attached."