Some More Information
You Might Want to Know About Us
Who we are:
We're artists, designers, and fabricators.
We work primarily in steel, bronze, copper, wood, concrete, and glass, but we're adventuresome.
We work with homeowners, as well as design professionals.
We can work from your designs, our existing designs, or we will design for you. We charge an hourly rate for design work.

We primarily do custom work, but sometimes have pieces available for immediate purchase.
Turnaround time varies with our work load and the complicity of the project, from a few weeks to a few months.
Who we aren't:
We don't have a retail outlet and aren't open to the public. We have pieces and samples sited on our grounds and are available to prospective clients by appointment.
We don't sell wholesale nor do we consign.
We don't work with manufactured parts.
Although we do limited forging, we aren't blacksmiths.
Except in the most extraordinary circumstances, we don't do repairs to pieces built by others.
We can't give 'ball park estimates'. Custom pieces are priced when all information regarding the project is available.
We have no 'more info'. We've tried to anticipate questions on this site, but if you need specific information, please feel free to contact us.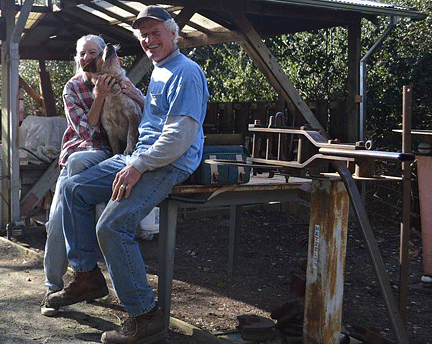 Cristie, Laney, and Scott
Copyright Information
Everything about this site, and everything in it, are copyrighted. Nothing may be reproduced, including photos, without written permission.
None of the pieces represented may be reproduced in any manner or with any materials without written permission of :L:M:N:O: Arts, Cristie Thomas and Scott Lindberg.
:L:M:N:O: Arts retains all rights to all of their work, including the right to use their images.